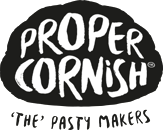 Proper People
Our pasties are "Made Proper to Taste Proper", ensuring a great taste experience, so we go the extra mile to ensure we provide a great colleague experience too. We deeply value our colleagues and invest in their growth through comprehensive training and development programs. We treat every member of our team as responsible adults, fostering an environment of trust and respect.
Our core values - Quality, Customer Focus, Honesty, Friendliness, and Passion - are the driving force behind our workplace culture, making it a welcoming and pleasant place to be. We are proud to have numerous employees who have been part of our journey for over a decade, many having climbed the ladder of success within our organization.
At Proper Cornish, we prioritise job stability, with all positions being permanent, and we regularly promote from within the company. We uphold a culture of inclusivity by advertising vacancies internally and giving preference to our existing team members who aspire to grow with us.
We go the extra mile to appreciate our colleagues, offering monthly treats and providing complimentary food and drinks every day. We celebrate special occasions with enthusiasm, taking the time to foster personal connections with our colleagues and embracing opportunities for fun. Our commitment to flexibility, understanding, and empathy ensures that we support our team members in all aspects of their lives, both inside and outside of work.
Proper Passion
We take immense pride in our team of 200+ dedicated colleagues, where every individual is appreciated and valued. Noticeably, more than half of our colleagues have been with us for over 5 years, a testament to our commitment to nurturing long-lasting careers and fostering a culture of happiness at work.
Proper Perks
PROPER TREATS

Free pasties and other pastries every day
Free fruit and drinks
Subsidised canteen
Monthly colleague treats
Quarterly staff BBQ's
Bake sales / competitions
Christmas goodies and celebrations

PROPER HEALTH

Holidays that increase with service
Free use of spa and golf facilities in St Austell
Subsidised massages
Mental Health First Aiders
Company funded Health Cash Plan
Death in Service Plan
Employee Assistance Programme (24 / 7 free and confidential helpline)

PROPER SAVINGS

Employment anniversary cash awards
£500 colleague referral bonuses
Huge discounts on boxes of pasties, pastries, cakes and tarts!
Local business discounts
Cycle scheme / loan bikes

PROPER CAREERS

Excellent career development opportunities

Great company communication (Monthly Newsletter, Suggestion Boxes, Colleague Comms Team)
Flexible working opportunities
Job security with a growing business
Proper Future
At our core, we're driven by progress. Fearlessly embracing change, we continuously innovate, refine our production capabilities and enhance our colleague experience. Keep an eye on this space for upcoming, exhilarating new perks and business developments!
About Proper Cornish
It all started in 1988 when three Cornishmen became disillusioned with so-called 'Cornish' pasties.
They decided to take a stand for Cornish heritage and quality so, taking a family recipe and working with local farmers, they started hand-crafting exceptional authentic Cornish pasties.
Today, we're still at the heart of Cornwall making pasties using the same traditional principles. Over the years the range has been extended to include new and exciting flavours, as well as a range of sausage rolls, slices and turnovers.
Part of a larger group since 2023, we look forward to a new chapter in the Proper Cornish journey, with new markets opening up in over 30 countries to all channels, including retail, freezer centres and foodservice.
Founded in 1988
Co-workers 210
Turnover £25M approx
Already working at Proper Cornish?
Let's recruit together and find your next colleague.